To the South West of the Grands Causses Park, the landscape is dominated by the reddish colour of its earth and rock, similar in colour to the sediment of a red wine, characteristic of the shimmering hills near Rougier de Camarès.
Rougier de Camarès, an irrigated region
Together with the pre-causses, le Rougier is the most densely populated area of the Grands Causses Park. The typical red colour in the landscape is due to the oxidation of iron contained in the rocks and soil. 
The Dourdou and the Rance rivers traverse the region, mainly composed of sandstone formed towards the end of the primary era, between 300 and 250 million years ago. Its low altitude (250 to 550 metres above sea level), its warm climate and abundance of water has been favourable to cultivation.
Ingenious irrigation systems have increased the yields of feed crops, supporting at the end of the XIXth century the intensive breeding of dairy sheep milked for making Roquefort cheese. The visual evidence for this pastoralism can be seen in the large farmhouses, more like bourgeois residencies, attached to huge sandstone barns.
The region of Rougier de Camarès can be divided into 3 landscape types.
Types of landscape in the region of Rougier de Camarès
- Alluvial plains: the Dourdou, a wide meandering river, has created vast plains. Loamy soil, easy to irrigate, has favoured cultivation on these alluvial plains. In former times, water from the river was diverted by paved channels and led to the plots of land by a network of canals and aqueducts.
- Peneplain: the development of sheep breeding required intensive development of feed crops. Plots of ploughed land alternate with sterile areas (outcrops of rock liable to erosion) and heathland covered with thyme, a plant resistant to dry conditions. These areas are scattered with bourgeois residencies attesting to their wealth.
- Hills divided by hedges: the less steep slopes are given over to pasture and cultivation and are covered with a network of hedges. Steeper slopes remain wooded, mainly with Mediterranean oak (Quercus pubescent). Chestnut trees are in evidence on north-facing slopes and the first plantations of pine begin near the mountain areas. To the South, the valley of the Rance captures many small watercourses. Sometimes steep sided, the banks shelter the village of Combret, built on a rocky spur almost enclosed by a meander.
Technical file on the landscape characteristics of Rougier de Camarès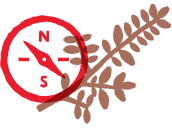 Welcome to our brand new site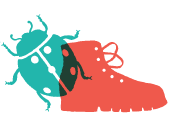 Les Parcs naturels régionaux en Midi-Pyrénées
Back to top